Department of Applied Chemistry and Biochemical Engineering

Top Departments Department of Applied Chemistry and Biochemical Engineering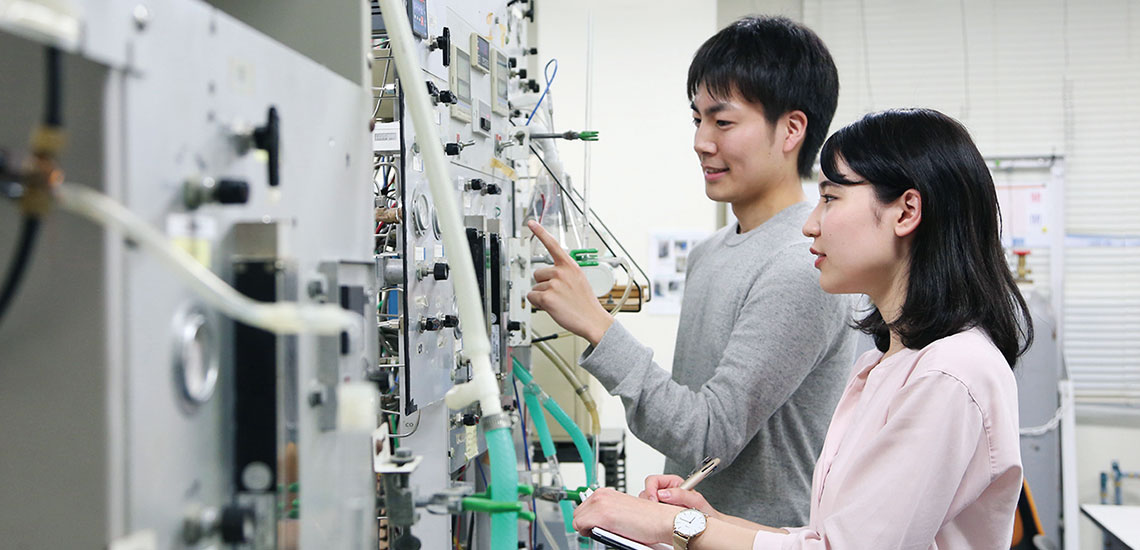 Education
The Department of Applied Chemistry and Biochemical Engineering targets the learning of environmental chemistry and chemical systems for creating environment-conscious high-performance products, and a fusion study of applied chemistry and biochemical engineering for manufacturing technology based on biological materials. By promoting engineering applications based on chemistry, we aim to foster students' abilities to become social leaders in research, development, and system architecture.
The first and second years are devoted to the acquisition of fundamental skills (e.g. mathematics, physics, and basic chemistry) required in the future study of applied chemistry and biochemical engineering. After the second year, laboratory work and exercises in each course are introduced to strengthen expertise. The fourth year is for learning specialized knowledge and skills through laboratory seminars and graduate research.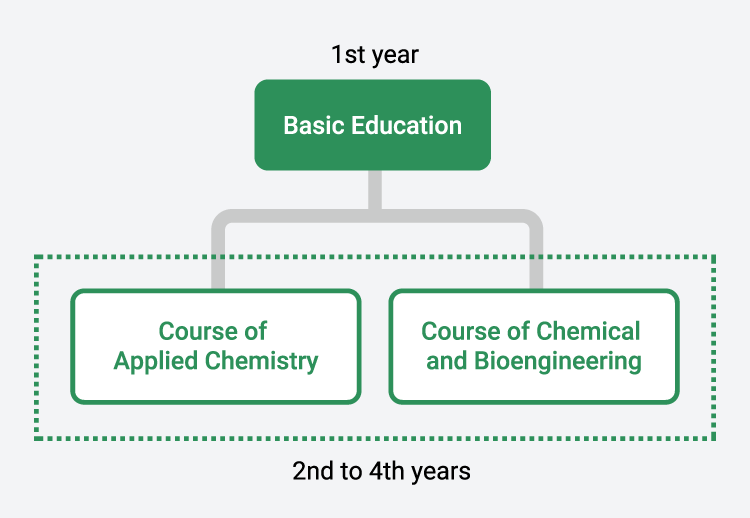 Courses
Course of Applied Chemistry
Acquiring problem-solving skills based on chemistry to realize a prosperous society in harmony with the environment
International exchanges have advanced remarkably in recent years as the world faces an intense need to improve manufacturing reliability through technological innovation and make beneficial contributions to environmental sustainability. Thus, chemical scientists and engineers face many future challenges in the conservation of the global environment, invention of sustainable energy, and the advancement of innovative green technology.
There is a growing global demand for highly skilled personnel with advanced technical knowledge of the principles of material handling, who also have the professional expertise needed to create eco-industrial synergies that will shape the future of an environmentally sustainable society.
The course of Applied Chemistry aims to provide deep understanding of fundamental principles that govern the nature of chemical reactions and facilitate challenges to design and create fine chemicals that benefit society.
The undergraduate and graduate programs provide rigorous education in interdisciplinary areas of applied chemistry and chemical engineering, with a focus on manufacturing science and technology for the sustainable coexistence of humans, nature, and Earth. Students are encouraged through practical experience and academic courses to learn how to design and create environmentally friendly chemical processes, as well as extend their knowledge of handling advanced green technologies and building ideal chemical systems for the future.
Academic/Field of Study
Mechanics of Materials
Physical Chemistry
Chemical Engineering
Environmental Catalyst Chemistry
Polymer Science
Quantum Chemistry
Organic Chemistry
Inorganic Chemistry
Optical Functions/Electrochemistry
Mass Transfer Phenomena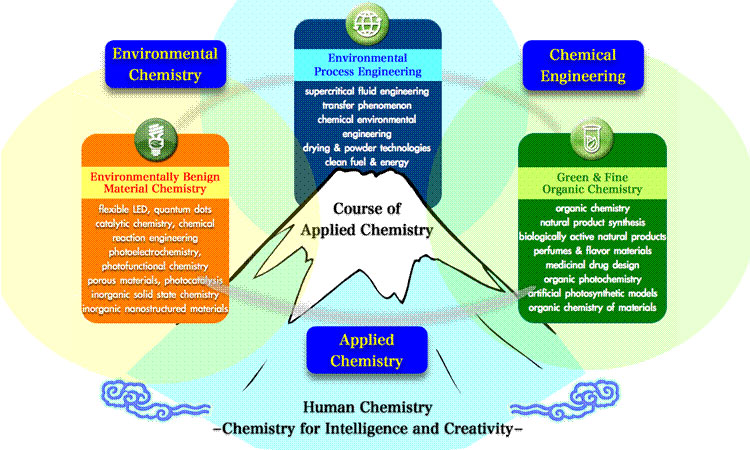 Course of Chemical and Bioengineering
Cultivating human resources capable of developing new biotechnology, with an education that integrates chemistry and bioengineering
In the 21st century, bio-related fields have been attracting much attention, with high expectations for sustainable and eco-friendly biotechnology from the perspective of moving away from fossil resources. In particular, the production of energy resources and raw materials for chemical products is expected to flourish through green biotechnology.
Active participation in these new fields not only requires knowledge of biology, but also a deep understanding of chemical reactions, chemical properties of biomolecules, and engineering process design. To this end, we have organized research groups in the fields of chemical biology, biomaterials, and bioprocesses. In addition to basic chemistry, our course incorporates biotechnologies such as biochemistry, biofunctional molecular engineering, enzyme engineering, microbial engineering, and biochemical engineering.
Through academic education and research, we develop human resources who can face the challenges of "manufacturing from living organisms" by acquiring development capabilities for new biotechnology that fuses chemistry and bioengineering.
Academic/Field of Study
Physical Chemistry
Organic Chemistry
Biochemistry
Macromolecular Science
Functional Materials Chemistry
Chemical Engineering
Process Engineering
Biomolecular Chemistry
Genetic Engineering
Cell Engineering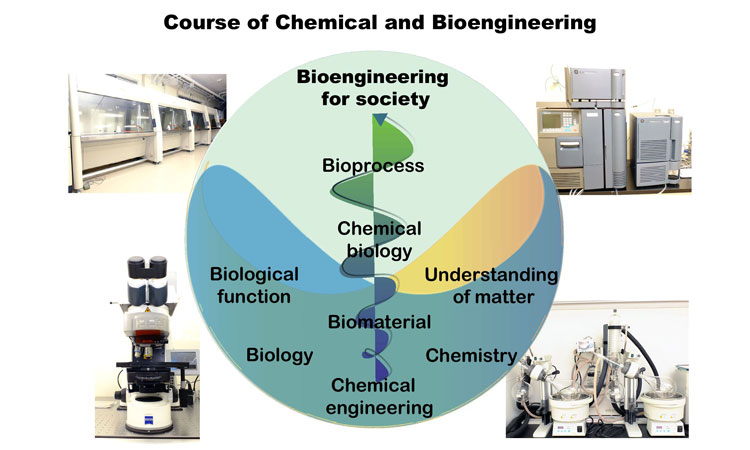 After Graduation
Nearly 100% employment rate in a wide range of industries
Approximately 60% of students in the Department of Applied Chemistry & Biochemical Engineering move on to the graduate school and learn cutting-edge science and technology.
Applied Chemistry & Biochemical Engineering provides fundamental knowledge and related skills necessary for a wide range of industries; e.g. chemical industry, oil industry, polymer and textile industry, food industry, printing industry, steel- and non-ferrous metal industry, electronic and communication industry, medical and pharmaceutical industry, human services industry, environmental industry, transport industry, information and communication industry, and photonics industry. Graduates are expected to assume important roles in leading companies around Hamamatsu, Tokai, and elsewhere.
We are proud that we have a nearly 100% rate of employment for graduates of the Department of Applied Chemistry & Biochemical Engineering.
Major Employers of Our Recent Graduates (2019-2021)
AISIN CORPORATION
Chubu Electric Power Company,Incorporated
DENSO CORPORATION
EBARA Foods Industry,Inc.
HAMAMATSU PHOTONICS K.K.
HONDA MOTOR CO.,LTD.
KAGOME CO.,LTD.
KOITO MANUFACTURING CO., LTD.
KYOCERA CORPORATION
Lion Corporation
Meiji Co., Ltd.
Mitsubishi Chemical Corporation
MITSUBISHI CHEMICAL ENGINEERING CORPORATION
NGK INSULATORS, LTD.
Nippon Light Metal Company, Ltd.
NIPRO CORPORATION
Shin-Etsu Chemical Co., Ltd.
SHIZUOKA GAS CO.,LTD.
Sumitomo Chemical Engineering Co.,Ltd.
Sumitomo Riko Company Limited
SUZUKI MOTOR CORPORATION
TERUMO CORPORATION
TOAGOSEI CO.,LTD.
TOYOBO CO.,LTD.
TOYODA GOSEI Co., Ltd.
TOYOTA BOSHOKU CORPORATION
TOYOTA MOTOR CORPORATION
YAKULT HONSHA CO.,LTD.
YAMAHA CORPORATION
Yamaha Motor Co.,Ltd.
Available qualifications
Person in charge of handling poisonous and deleterious substances
Handler of Class A Hazardous Materials (eligible to take the exam after graduation)
Associate professional engineer (students who have completed the JABEE accredited program in their department can acquire it only by registering)
Professional engineer (students who have completed the JABEE accredited program in their department are exempt from the first examination)
Faculty
Course of Applied Chemistry

Professor

Choji Fukuhara

Catalytic Chemistry, Chemical Reaction Engineering

Professor

Chang Yi Kong

Supercritical Fluid, Transfer Phenomenon

Professor

Masaki Takahashi

Organic Photochemistry

Professor

Yasumasa Tomita

Inorganic Solid State Chemistry

Professor

Hajime Torii

Physical Chemistry, Molecular Spectroscopy, Theoretical Chemistry

Professor

Kazumasa Ueda

Organic Chemistry of Materials

Associate Professor

Yoshiumi Kohno

Porous Materials, Photocatalysis

Associate Professor

Akinori Maezawa

Chemical Engineering, Environmental Preservation

Associate Professor

Keiko Miyabayashi

Inorganic Nanostructured Materials

Associate Professor

Izumi Okajima

Supercritical Fluid Engineering

Associate Professor

Tetsuya Sengoku

Organic Chemistry, Natural Product Synthesis

Associate Professor

Kaoru Takeishi

Catalytic Chemistry, Clean Fuel and Energy

Associate Professor

Yuji Tatemoto

Drying Technology, Powder Technology

Associate Professor

Ryo Watanabe

Catalytic Chemistry, Chemical Reaction Engineering

Lecturer

Takahiko Moteki

Zeolite Science, Porous Materials

Assistant Professor

Keisuke Fujimoto

Organic chemistry, Photochemistry

Assistant Professor

Yukichi Kitamura

Theoretical Chemistry, Computational Chemistry
Course of Chemical and Bioengineering

Professor

Hiroyuki Futamata

Applied Environmental Microbiology

Professor

Kazutaka Hirakawa

Photo Chemistry

Professor

Kazuhide Kimbara

Environmental Bioprocess Engineering

Professor

Motohiko Kimura

Biomedical Engineering

Professor

Nobuyuki Mase

Organic Chemistry, Process Chemistry

Professor

Atsushi Sugita

Polymer Physics, Photo Bio-Instrumentation

Associate Professor

Stefano Ferri

Synthetic Biology, Protein Engineering, Cyanobacterial Bioprocess

Associate Professor

Hideki Kawai

Organic Luminescent Materials

Associate Professor

Yasuhiro Matsuda

Polymer Solution, Biocompatible Polymer

Associate Professor

Saori Miyazaki

Biodiversity and Sexual Reproduction, Environmental Stress Response

Associate Professor

Tetsuo Narumi

Bioorganic Chemistry, Peptide Chemistry, Medicinal Chemistry

Associate Professor

Yoshifumi Noguchi

Computational Science and Quantum Chemistry

Associate Professor

Yukari Oda

Polymer Chemistry, Interfacial Science

Associate Professor

Masaki Shintani

Environmental Microbiology, Microbial Genetics

Associate Professor

Kazuhiro Takeda

Bio Process Systems Engineering

Associate Professor

Mitsuo Toda

Organic Chemistry, Environmental Science

Associate Professor

Nobuyuki Yoshida

Applied Microbiology, Microbial Cell Biology, Biochemistry

Lecturer

Yosuke Tashiro

Environmental Microbiology, Microbial Communication

Assistant Professor

Kohei Sato

Bioorganic Chemistry, Protein Chemistry